What parent doesn't want the very best for their child? When thinking about our students succeeding in school, we often place that responsibility on a teacher. As parents, a lot of that responsibility falls onto our plate, as well! How can we make sure our students are well prepared for their time in the classroom? It all starts with a few steps at home.
Here are 6 ways to help your child succeed in school!
1. Show your child how to use a daily planner
First things first, they need to be organized to succeed! Let your child pick out their own planner, and sit down together to help them schedule tests and assignments. To give them an example, bring out your planner to show them how you keep things organized. By encouraging them to keep their planner within arm's reach, they can write down important dates as soon as they get them.
2. Check your child's assignment book or homework folder regularly
You don't have to micromanage, but checking your student's folder with assignments will help you gauge if they are on task or not. Let them know you will check it regularly, so it does not seem as if you don't trust them. To make this more of a team effort, assign a place for your student to put papers they need you to sign. Putting graded papers together will help you see progress or any changes in your child's work.
3. Teach your student how to break big assignments into chunks
Tests and projects can be overwhelming. Sometimes, we just need a break! Teach your child how to break up their workload. Have them study for 30 minutes, and then set a timer for a 15-minute breather. Working on a big assignment? Have them work for 45 minutes and take another 45 to clear their head. Showing your student how to analyze and organize their studying and projects into parts will allow them to break it up in a way that connects. Encourage them to start studying a week or two early, by just looking at a little content each day.
4. Have similar expectations as your student's school for consistency
Sit down with your child and have a refresher conversation on your expectations around missing assignments, late work, failed tests, and other topics. Make sure your student knows their school's policy for these situations, too. Let them know that these consequences are in the student's best interests, and to help them have a great school year. Consistency is key. If your consequences and expectations match the school's, following these rules will become second nature to your child.
5. Make learning a year-round thing
The learning doesn't have to stop when summer comes – encourage learning activities such as crafts, STEM challenges, museum visits, and more. Summer camps are great, as well. They'll stay sharp on their academic skills, and have a great time doing it!
6. Make time to talk every day
Last but not least, talk to your child! It seems like a no brainer, but the more genuine questions you ask about school, the more they'll realize you care about their academic lives. When encouraged daily, school will become important to your student, and they are more likely to take their work seriously.
Success is attainable for your student – especially with a little help from you! For more tips and tricks, check out this website.
Thinking afterschool is the key to success? The Quest Zone can help with that. With STEM activities, digital literacy, NFL Play 60 and more, your child is sure to shine in the classroom. Visit our website for more information!
The holiday season is full of new and exciting gifts, and your student might be asking, "When is it my turn to get a cell phone?"
Smart phones can be an intimidating purchase, especially with the risks of unlimited internet access, cyberbullying, and too much screen time. How do you know when it's the right time to give them a smart phone?
There are several topics to consider when your child wants a cell phone.
1. Your Child's Awareness Matters
Sometimes it's more about behavior than age. A 12-year-old who is responsible and aware is more likely to do well with a smart phone than a 14-year-old who does not complete tasks and loses belongings. Consider your child's awareness –their ability to keep up with items, social cues, and understanding the consequences of their actions.
2. Talk About Screen Time
How well does your child follow rules? If you think they will respect screen time limits, good news, now may be a good time! Studies show that too much screen time can be a bad thing, and it is important to set a limit that works for your family. Smart phones, especially social media platforms, can be addicting. If there is a strong possibility your student reacts negatively to you telling them to put down the phone, wait a little longer, and then have a conversation with them explaining the importance of putting the phone down. If your child is respectful about tasks and rules you give them now, use that as an indicator to how they will react to screen time limits.
3. Consider Whether the Phone is a Need
Sure, your child wants a phone, but do they need it? Ask yourself these questions:
Do they have a volunteer position or part-time job?
Are they dropped off at sports practice or activities by someone other than you?
Do they spend the night away from home? Are they spending time home alone?
Does your child call you from someone else's phone?
Do you have a land line at home?
As your child becomes more independent, a smartphone will become more of a necessity. If you're thinking they may not need it at this time, but your student enjoys playing games on apps, a tablet is a good alternative.
4. Start Out with an Older Model
If you're unsure whether your student should have a new phone initially, start them out with an older model. This is good testing ground to see how they handle the responsibility. Take one of your older phones to your carrier and ask them to reactivate it or ask what older models they have available. You'll save some money while you're at it, too!
5. Try Middle School
While there's no clear answer of "when," middle school is a good place to start. Middle school calls for more responsibility, and students mature more during this time in their lives. Students start to take on extracurricular activities and spend time with friends outside of school and parent supervision.
Remember, not every family nor every child the same, and the timing is different for all! Consider these guidelines, talk it out, and you'll make the right decision. Want extra help? Check out these resources for more tips on when to get your child a cell phone.
You're always hearing about STEM activities in your student's classroom, but should you extend the learning to home? Yes! STEM enables your child to see how math and science is more than just addition and biology. STEM can increase curiosity and help your student learn what they're good at! It can even get your child thinking, "what do I want to be when I grow up?"
Here are some of our favorite STEM activities to complete at home.
Looks can be deceiving when it comes to spaghetti! Try this activity to see how materials have different strengths and weaknesses. Use blocks, books, or even shoes to test out uncooked spaghetti's strength.
This sure is a tasty experiment! The temperature of water sure makes a difference when it comes to a good cup of hot chocolate. Have your student test how quickly hot chocolate mix dissolves with water at different temperatures. Throw a cup of milk in the mix and see how that changes things!
Who is ready for a snowball fight?! Minus the snow, of course. This Styrofoam snowball launcher experiment is an easy test to measure how far things can fly – and it doesn't stop with snowballs. Try different sizes of snowballs, small stuffed animals, ping pong balls, or any other item that will fit in your launcher.
Build your very own ancient Greek building with this challenge! Just find paper cups and trays, and you're on your way. Your cups will be the columns, and the trays will be the foundation and roof. It takes testing for believing, but with the right layout, it can support a person! Have your student arrange the cups in multiple layouts and see which is strongest. To take things to the next level, build a double decker!
If you and your student are in need of a snack, this is the activity to do. They'll need their thinking caps for this one. Create a ring with Pringles – it sounds impossible, but with the right pattern, your Pringles will turn into a wheel! It will take some trial and error, so make sure to talk thought how different strategies could work with your student.
These activities are all the proof you need to know that STEM outside of school can be fun and accessible! In need of a structured, educational after school experience? Visit our website for information on programs and more. With over 40 locations and partnered schools in South Carolina, we're sure to find the right fit for your student.
Technology is ever changing- and that's something that effects your students!
Classrooms are very different than they once were. Textbooks and workbooks are not the only materials used for lessons. STEM is a hot topic of discussion for educators, and it is taking over your student's homework and class activities. Technology changes quickly, so it's important to stay informed of how those technology changes play out in the classroom and with your child.
Here's a list of items you might see in your child's classroom!
Mobile Devices
Let's start with the obvious – mobile devices. Smartphones and tablets can be more than just a distraction to our students. Mobile devices are utilized in the classroom for research, online education games, and even reading their textbook. Technology in the classroom has given teachers the opportunity to find free resources online, and then share with students!
Mobile devices give students wide access for projects and studying materials. Coming up with ideas, finding a template for a design, or using a flashcard app are just the beginning of the possibilities. Pinterest, Canva, and Quizlet are apps to look out for!
Game-Based Learning
Game-based learning makes for a fun day in the classroom. Lessons are presented in an engaging way, while students are having fun with classmates to grasp topics. Game-based learning works well as a study tool. Jeopardy is a classic online game to play when preparing for a test. Studying can be a daunting task, but added an educational game takes a bit of the stress off.
What student doesn't love to win? Game-based learning motivates students to learn the material, so they can bring home the gold! Your student is able to feel good about doing well during an educational game, because they know they are actively learning.
Flipped Learning
Take the learning to the comfort of your home! Flipped learning is a process where students view lessons online at home, and complete homework in class, where their teacher is available to help. While students have different levels of access, all teachers make sure lessons are accessible to students before flipping their classroom.
With flipped learning, homework becomes more collaborative. Students are often encouraged to work in a group to problem solve. Homework can be frustrating, especially when answers are not easily found without a teacher present. Flipped learning is a great way to change up the classroom, and without technology, it wouldn't be possible!
Screencasting
Teachers can pay more attention to students' needs with Screencasting. Screencasting is a prerecorded lesson the teacher plays for students, whether it's found from another source or recorded by the instructor.
This gives teachers flexibility to move around the classroom, and not be stuck at the board. Teachers are free to roam around and engage with students, making sure they stay engaged! Being prerecorded, Screencasting allows teachers to practice lessons, and make sure they hit all the highlights. It gives teaching a storytelling approach and allows lessons to be delivered fully without distractions.
STEM
Everyone's talking about it – STEM! It's been developing for many years and is heavily incorporated into most school's curriculum. STEM offers lessons about coding, graphic design, 3D printing, artificial intelligence, and more. Students are able to prepare for future jobs and see where their interests lie by working on projects. The classroom turns into a hands-on haven, where students can look forward to a STEM filled lesson!
Resources for additional reading
https://www.edtechupdate.com/elementary/trends/?open-article-id=9124036&article-title=top-10-k-12-educational-technology-trends&blog-domain=techlearning.com&blog-title=techlearning
https://www.securedgenetworks.com/blog/7-must-know-classroom-technology-trends-that-are-changing-education
https://www.teachhub.com/technology-classroom-why-how-screencast
https://edtechmagazine.com/k12/article/2019/06/iste-2019-what-k-12-experts-expect-future-education-technology
https://medium.com/datadriveninvestor/whats-driving-stem-education-in-2019-bc7b73a1ac7b
Afterschool care wouldn't be possible without our awesome staff. Directors and teachers are what makes The Quest Zone special, and the reason our students arrive with a smile!
Get to know the people making a difference in your child's life – one question at a time.
We spoke with Adreana Middleton, Program Coordinator at The Quest Zone at Belvedere Elementary in Belvedere, SC and asked her the questions you all want to know!
Question:  What made you want to have a career in education?
Adreana:  I wanted a career in education because I always had a desire to help children. If I can make a change in a child's life, I've done my job. Working in education makes me feel like I am giving back to the community.
Question:  What is the most rewarding part of your job?
Adreana:  The most rewarding part of my job is knowing  my students are having fun, while learning at the same time. When my students are happy and my parents are satisfied, I feel good about my work.
 Question:  What's your favorite memory with your students?
Adreana:  When my children at Belvedere Elementary surprised me on my birthday. When I walked in the cafeteria, they all started singing Happy Birthday. I received gifts and a lot of hugs!
 Question:  How have your students impacted your life?
Adreana:  They have impacted my life in a great way — I wake up each morning knowing my day will be a great one once I see all 65 of my babies.
 Question:  What part of the curriculum do you enjoy the most and why?
Adreana:  I enjoy the STEAM curriculum.  It's great to see things come together.
Question:  What are your goals for the new school year?
Adreana:  My goal is to make the Belvedere Elementary Quest Zone shine. I want to make sure  every student remembers every moment of the Quest Zone! And, for a specific goal, I want the number of students participating in our awesome program to triple.
Question:  Why do you think afterschool programs are important for students?
Adreana:  I think afterschool programs are important because the students are continuing the learning process. It is a positive environment until parents get off work. Afterschool programs also help reduce the likelihood of risky behaviors.
Question:  What is one lesson you want your students to take with them when they leave?
Adreana:  I would like for my students to never stop learning. I want them to always keep smiling and to be positive in every situation. They should never  give up and always stay ahead of the game.
 Question:  What is something about yourself that would surprise others?
Adreana:  A random fact about me is when I get home from work, it takes me 1.2 seconds to fall asleep.
Our Quest Zone team is made up of encouraging, educated staff who make an impact on students daily. Contact your local Quest Zone for information about programs and enrollment – we can't wait to see you soon!
The school year is quickly approaching, and a lot of us aren't quite ready to give up summer. Late nights will turn into early mornings, and pool days with the kids will turn into math classes. While we enjoy a break, it's important to start the year off on the right foot. With so much to do, and last-minute vacations to be had, we could all use a little preparation. Here are 6 tips for a successful new school year!
1. Sit down and set goals
With a new task at hand, like the new school year, it's important to determine goals and have specific things to work toward.
Sit down with your student a few days before the first day of school and brainstorm goals for the year. Do they want to make 3 new friends? Try out for a new sport? Make more As than Bs?
Let them determine what they think is a reasonable goal and set timelines for each. Remember, a good goal is measurable and specific!
Display their goals in a place where they see them daily. The refrigerator or by the door are great places. They'll already be thinking of the year ahead, and how they can improve from last year!
2.  Start cutting back on electronics
Less screen time equals more time for homework and family! As the first day gets closer, gradually start cutting back on your student's time playing video games, TV time, cell phone use – all the above.
Encourage your student to enjoy time outside before they start classes, put phones away at dinner, or challenge them to spend a few hours without it. To go a step further, determine a time for the kids to give you their phones before bed. The more instances you can find to get rid of electronics, the easier the transition will be when school starts.
3.  Have a back-to-school get together
The end of summer is a great excuse for a party! Allow your student to have friends over and celebrate the new school year. This gives you a chance to meet their friends and see who they'll be spending time with this year. You could even make a friend yourself by talking to parents!
After not seeing friends daily, the initial hello can make some kids anxious. A get together will allow for friends to reconnect and take on the first day together. Parties are fun – don't be afraid to go all out!
4.  Craft something together they can bring to school
Making something together is a great excuse to bond with your kids! Tell your student you'd like to make a school supply of their choice – like binder covers, a pencil holder, or locker/cubby décor. The options are endless, and it's a great way to get their creative wheels turning! It'll have them thinking about the first day, but with a positive, excited outlook. Your student will be proud to show their friends their awesome, personalized supplies.
5. Plan it all out
Organization is key for the beginning of the year. When going to buy school supplies, encourage your student to pick out their own planner. Explain to them it's important to keep track of what's going on in and out of the classroom. No planner is created equal, so look through each and determine which is best suited for your child's level of organization.
Before the first day of school, sit down with your student, grab the planner and a pencil, and get to it. Help them write down initial dates and appointments – like meet the teacher night, going to the dentist, and more. As the year progresses, ask them what they've got coming up in school that they've scheduled. Hold them accountable for keeping up with what's going on. It'll help you in the long run while giving them responsibility (even if you always know what's coming up)!
6.  Create a school station
You probably have a designated spot where your student does their homework, but have you considered making a space devoted to all things school? Pick out a space together in your home that works for everyone. Decide what items should be available – you never know what you might need for projects! This is also a great space for you to store graded work and keep up with their assignments.
Your school station can be whatever you envision — plain and out of the way, or bright and on display. No matter what it looks like, it'll be a great way to keep your school supplies all in one place.
Choose one or all – either way, you're one step closer to a great school year! We sure are excited for the year to start at The Quest Zone. Thinking about after school care? Head over to our website or Facebook page to see what we're all about. With our STEM and Homework Zones, our students are sure to have a successful school year.
Is it a struggle to get your student to read on their own time? We all wish they'd pick up a book from time-to-time, but they always seem to have their phone in their hands. We don't need to tell you why reading should trump online time, but we can tell you how to help instill a love of reading in your kids.
Set an example
First things first, your student should get the impression that you enjoy reading! Most of us are dealing with busy schedules, but allow time for yourself to read as well. If you want your child to start, it's not a bad idea for you to join them.
Buddy read
If you need motivation to read along with your student, try buddy reading! That way, both of you can hold one another accountable. Your child will be more likely to consistently read if you are enjoying a story together. It's like your own little book club– and can even turn into a family book club. Discuss what you have read each week, and eventually, your child will look forward to telling mom or dad what they thought about their favorite character. Plus, it's a great excuse to spend some time with your loved ones!
Have them read to younger siblings or family friends
To piggyback on buddy reading, try having your student read to a younger child – whether that's a sibling, family friend, neighbor, anyone! This exercise will give them a sense of responsibility. Let it be a regular occurrence, and their confidence in reading will start to rise. As their confidence in reading grows, they'll be more prone to pick up a book.
Make a cozy space just for a reading
If you have a little extra space in your home, reserve a space just for reading. Add some pillows, blankets, and a place to store books. Explain to your student that the space is just for reading and they can get comfortable. Let your student help pick the place or design of the reading nook, and they'll be excited to sit down with a book there!
Make reading = relaxation
When your student feels like they need a break, suggest a quick 15-20 minute reading session, and after, they'll feel better rested. Explain that they don't need a difficult book to read, and quiet time without electronics can ease their mind. Ask them to compare how they felt before and after reading, and they can hear the difference for themselves. As time goes on, give them longer to read, and eventually, they will look forward to restful reading!
Offer a variety of reading material
When you tell your student, "You need to go read!", I'm sure their mind goes to a long novel. Give them options, like comic books, magazines, cook books, or even a picture book. Try a good mix, because all books are not created equal. The more books that end up in their hands, the better. Letting them pick out a book, even if it isn't a novel, is something they can get excited about. The more genres of books they gravitate to, the more they (and you!) will be able to learn what they're truly interested in.
Curious how our curriculum can help? Head over to our website to learn more about The Quest Zone's programs.
For more tips and tricks, check out All About Learning here.
Summer—it's a time for your kids to relax and play in the sun. But can too much relaxation be harmful for their growing minds and bodies (as well as your growing impatience)?
Why do students need structure in the summer?
While students look forward to the lazy days of summer, the lack of predictability and irregular routines plague kids with anxiety and boredom. These may lead to behavior problems at home.
Summer learning loss is also a huge issue for students during these vacation months. On average, students lose 2 months of reading and mathematics knowledge over the summer because they are not regularly learning.
The lack of structure during the summer even encourages students to develop unhealthy habits. They often spend more time indoors in front of the TV or computer and consume unhealthy snacks. This sedentary lifestyle has proven to negatively impact kids as they grow, and often leads to higher rates of obesity.
Structure helps your kids channel their energy into productive, engaging activities that boost their confidence, limit learning loss, and encourage healthy habits.
But how do you incorporate structure into the summer?
1. Enroll your kids in a summer camp.
Summer camp activities keep students on a schedule that is fun and engaging. When you look for a summer camp, look for ones that emphasize:
• Clear, balanced schedules.
• Physical activity.
• Educational experiences (classes, field trips, guest speakers, etc.).
• Nutritional snacks.
• FUN (it is still summer, after all).
The Quest Summer Camp is a great mix of structure and spontaneity for campers—each week students look forward to exciting field studies such as Engineering Week, Creative Art Week, and more. All of our camps include the NFL Play 60 and Digital Literacy and STEM Learning Programs to keep your kids physically and mentally healthy over the summer. You can learn more about our summer camp activities and enroll your camper at www.thequestzone.com/summer.
2. Create a schedule as a family.
Whether or not summer camp is in the cards for your kids, it's important to keep a routine at home. Work together with your students to build a schedule and post it in a visible location. This way, your kids feel like they have a say in the schedule and are more likely to follow it. This can also be a fun time to bond with your kids!
3. Keep meals and bedtimes regular.
Even if you can't keep all their activities during the day straight, regulating their meals and sleep makes the schedule predictable for kids. This reduces anxiety and boosts their daily confidence. Regularly scheduled meals and bedtimes also encourages restful sleep and promotes better dietary choices in the long term.
4. Include a physical activity.
Kids need at least 60 minutes of physical activity every day. Encourage your children to dance, bike, swim, and more every day this summer. This will encourage healthy habits that ward off future health issues.
5. Limit entertainment screen time, but encourage educational screen time.
Screen time can turn your student into a lethargic zombie on a beautiful, sunny day. Reduce social media, video games, television, and other entertainment screen time to between one to two hours a day. In place of entertainment screen time, encourage educational activities such as reading and math games.
6. Don't forget family time.
Summer is the perfect time to bond over family trips, summer camping activities, or even stay-cations. Building in time for little things like a family game night or a dinner spent at the dining table can bring your family closer on a daily basis.
7. Be flexible with the plans.
Just because your student needs structure, doesn't mean summertime has to be rigid! Strict schedules can be just as boring for kids. Flexibility keeps your home (almost) stress-free and helps the whole family enjoy the summer schedule.
8. Remember your family needs.
Create a schedule that fits your family and is fun to follow! Don't restrict your students to the same old schedule every week. Be creative, and your kids won't even notice the scheduled time.
It's close to that time of year again! Every student's favorite – school is out, they sleep in every day, and they don't have a care in the world besides which Popsicle flavor they'll choose today.
I know the last thing you want to hear is, "I'm bored!" to be repeated for two straight months. Fortunately, there are reinforcements ready to take those two dreadful words and replace them with fun-filled ones – summer camp!
If you've never sent your kids to summer camp, keep reading because here are 7 reasons you should:
1. Learning Never Stops
Just because school is out doesn't mean your kids have to stop learning! Research shows that students lose 2-3 months of knowledge every summer. Our activities are designed to help your student hold onto the math, writing and reading skills built through the school year, while having fun! Camp also includes weekly field studies, STEM projects, and all kinds of activities. Because isn't fun what summer is all about?
2. New Experiences
Summer camp offers a unique experience your kids might not necessarily get at school. They're exposed to new people and new places, and many times they're out of their comfort zone, which is crucial to their growth as an individual. This exposure helps them grow and mature during a season when many children grow a little stagnant.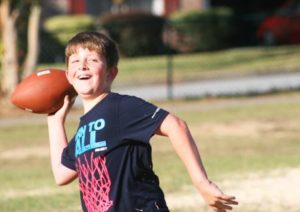 3. Gets Them Active
Summer can get a bad rap for producing laziness. Kids sleep in, stay in their pajamas all day, and play video games rather than go outside. At summer camp, that's not an option. There are so many activities – outdoors and indoors – and usually video games aren't one of them. At our Quest Summer Camp, we offer artistic, athletic, and scientific experiences to get your child up and moving, and learning. From our popular field studies to our themed weeks, your child will always have something new and exciting to do.
4. Occupies the Summer
Many camps run for a week or two at a time; some extend to a month or the whole summer. Our camp lasts all summer long. You can attend the whole summer, a few weeks or just a few days. So, no worrying about finding multiple camps to fill the summer or piecing together time with a babysitter or relative! And each week brings new adventures, special guests and themes, so your kids will never say "I'm bored!"
5. Sparks New In
terest
Summer camp is a great way to introduce your students to new experiences and topics. They might find they're interested in a new sport or creative arts they didn't know existed. Things like creating an art mural with simple masking tape or building a robotic arm are things they can experience at summer camp that a typical summer at home won't give them. The opportunities are truly endless; you just have to find the right camp for your kids!
6. Life-Long Friendships
Your students will meet many new people at summer camp, and they may find friends that will stick with them for life! So, if you think you're sending your kids to camp just to get them out of your hair, you'll be surprised when they come home with more new experiences and friendships than you could imagine.
7. New Challenges
Of all the fun they'll experience, one of the most important things your kids will learn at summer camp is how to overcome new challenges. Summer camp will challenge them in new and wonderful ways! What more could you ask for? Weeks of fun and adventure, while maturing and growing as an individual. Summer camp is truly an experience like none other.
The benefits of a quality summer camp program are truly endless. If you're searching for the right camp for your family, check out The Quest Summer Camp and contact your local Quest Zone for more information! And, if you've got some extra popsicles in the fridge this summer, I'll take the cherry flavor!
Spring is officially here!  That means more daylight, the much-anticipated spring break from school, and every parent's not-so-favorite task – spring cleaning. The house can get all sorts of grimy after a long winter of tracking in mud, sleet, and snow, making spring cleaning a daunting task.  But don't fret!  This is a perfect opportunity to ease the load by teaching your student some new skills and adjusting the household chore assignments.
Here are 9 tips to tackle spring cleaning as a family while teaching your student a little about household responsibilities.
1. Have a plan. Your plan may include organizing, de-cluttering, deep cleaning, or a combination of all – it's just important to have one!  It may be easiest to focus on one room at a time.  You can use our Spring Cleaning Checklist to help you stay organized while getting everything accomplished!
Take your list a step further with a chore chart that applies all year.  With new-found skillsets emerging through the spring-cleaning process, have a family meeting to decide who can take out which chores and how often to change up the assignments.  Make it interactive and flexible!  Check out these chore chart ideas.
2. Prioritize tasks. Cleaning an entire home usually involves quite a few tasks, and can be overwhelming for everyone. Make a prioritized list of tasks for each room, being specific about which items need to be completed first in order to qualify the room as "complete."  Be focused, be realistic, and keep track of your progress.
Help your student prioritize the tasks required for their assigned room.  Be flexible and let them learn from their mistakes.  Allowing them to evaluate messes and determine how to best re-organize may help them consider the aftermath of making messes in begin with!
3. Set rules for decluttering. Make it a point to throw out or donate at least three items from each room you clean.  Begin by guiding your student's decision making, and then let them determine what to donate on their own.
4. Make day of it. Spring cleaning can drag into a week-long or even month-long affair. But dedicating one or two days to "just knock it out" with the whole family can be a great bonding experience. Choose a day at the beginning of spring break, and have the family knock out the spring cleaning checklist before the fun starts. The reward of a fun, carefree spring break might be all the motivation they need!
5. Make it a competition. A little competition between siblings isn't always a bad thing. Get your students motivated by setting the clock and seeing who can pick up the most items, fold the most laundry, etc. under the time limit. Incorporate a prize, or just have them compete for bragging rights – whatever works for your family!
6. Dance Party! Everyone needs to let loose occasionally. Creating a fun and exciting spring-cleaning playlist can lift the mood and make it all a little more fun for everyone.
7. Rewards. We wouldn't call it bribing. Instead let's call it, "rewarding diligent, hard work." A little incentive can go a long way!  Plus, this is a great opportunity to discuss a small allowance for chores.
8. Take breaks. A long day of cleaning can make even the happiest helpers grouchy and irritable. For every hour you spend cleaning, take 10 minutes to go outside for fresh air. Kids can catch cabin fever quickly, so talk to your family about the importance of mental and physical breaks to maintain motivation. They will have loads of high school homework before you know it.  Learning this skill early will pay off in the long run.
9. Kid-sized equipment. Pint-sized cleaning supplies can help minimize equipment challenges that lead to frustration (like sweeping with a broom that's too tall). Give your student tasks they can easily complete on their own with equipment they can handle. Check out these housekeeping tools for kids on Amazon.com.
Whether your house needs a good decluttering, an intense deep clean, or both this Spring, be sure to involve your student. Spring cleaning is an opportunity to develop skills that can help your student take on more household responsibilities this year. Talk about checking all the boxes! So, before you stress about spring cleaning, plan how the kiddos can get in on the action to benefit the entire family.