Love is in the air! Valentine's Day is the holiday of love, but it's a great opportunity to express appreciation to friends, too. As your kids are preparing to hand out Valentines in the classroom this year, talk to them about how they can make everyone feel appreciated. Here are five fun, classroom-appropriate treats that everyone is sure to fall in love with.
Treat 1: Homemade Valentine Chex Mix
It's salty and sweet and oh, so easy! Give this 5-ingredient recipe a touch of love with pink and red items. Have your child write a personal note at the bottom of the cup for a lovely surprise.
Items:
Pretzels
Chocolate Chips
Valentine M&Ms
Cheerios
Marshmallows
Valentine Snack Cups
Step 1: Turn each cup over and write a Valentine greeting on the bottom for classmates.
Step 2: In a large bowl, combine pretzels, M&Ms, cheerios, chocolate chips, and marshmallows. Mix together.
Step 3: Fill each cup with mix. After only 3 steps, your child has a tasty treat for the whole class! Thanks, Pinterest, for the inspiration!
Treat 2: Heart-Shaped Healthy Chocolates
Have your chocolate and eat it, too! Making chocolate from coconut oil offers a healthy twist on a Valentine's Day classic. Your kids will test out their skills in the kitchen with this sweet treat!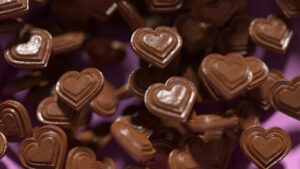 Items:
Heart shaped pan
½ Cup Coconut Oil melted
3 tbsp Maple Syrup
2/3 Cup Raw Cacao Powder
½ tbsp Vanilla Extract
Step 1: Melt coconut oil over low heat.
Step 2: Add syrup, cacao powder, and vanilla and stir together.
Step 3: Line pan and pour chocolate into each heart.
Step 4: Refrigerate for 1-2 hours.
Treat 3: Cutie Oranges
What's cuter than this? Create a template or write out tags to add to the oranges for a personal touch.  Classmates' parents will appreciate a healthy piece of fruit for a change.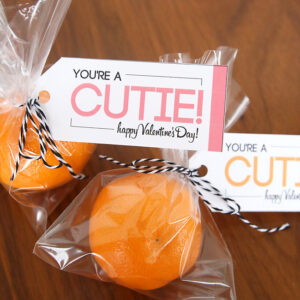 Items:
Cuties
Cardstock Paper
Hole Punch
String
Printer
Clear Bags
Step 1: Place each Cutie in a plastic bag.
Step 2: Head over to https://www.itsalwaysautumn.com/youre-a-cutie-free-printable-healthy-valentine.html to find the free printable of "You're a cutie!", or write out your own version.
Step 3: Print out multiple copies of the tag template on a page to save paper. Cut out each individual tag and punch holes in the top.
Step 4: Tie your string around the plastic bag and through the tag. Thanks, It's Always Autumn, for the template!
Treat 4: String Cheese
Encouraging and tasty! Pick out festive scrapbook paper and personalize the notes to each classmate.
Items:
Package of String Cheese
Scrapbook Paper
Scissors
Markers
Glue
Step 1: Cut paper roughly 6 inches long and 3 inches across. Cut holes on strips of paper about an inch from the top, big enough for the string cheese to fit through.
Step 2: Cut out small hearts and write, "Let's stick together, Valentine!" Leave room for your child to sign their name.
Step 3: Place string cheese through holes of paper, like shown.
Step 4: Glue each note onto the string cheese. Thanks, https://www.blessthismessplease.com/how-to-healthy-valentine-treats-to-give/ for this great idea!
Treat 5: Owl Bags
These bags are so cute, the class will be wondering HOO made them! Add popcorn or any other treat inside them. Test your creativity with this craft, and try to come up with as many owl sayings as you can – it'll be a hoot!
Items:
Paper Bags
Red and Black Construction Paper
Heart Tags
Markers
Popcorn
Scissors
Glue
Step 1: Cut out owl eyes and nose from construction paper, or use https://kitchenfunwithmy3sons.com/valentine-owl-craft-paper-treat-bags-free-printable for a free printable!
Step 2: Glue owl eyes and nose at the top of your paper bag.
Step 3: Glue on heart tags on the sides of the paper bag, facing down and out to appear like wings.
Step 4: Cut out a heart for the body, and write a cute owl greeting on it. Glue the heart upside down, with the point under the owl's nose.
Step 5: Pop the popcorn and add inside your paper bag. Great tips, Kitchen Fun with my Three Sons!
Making a homemade snack, card, or craft is a great way to spend time as a family while learning a few unique ways to show appreciation for others. Happy Valentine's Day!