Bells are jingling, Santa is checking his list, and that means one thing—the holidays are in full swing! Amongst all the sales and wish lists, it's important to teach our kids how to be generous during a season that also brings quite a bit of receiving. Gift-worthy holiday crafts are a fun, rewarding, and thoughtful way to get your kids in the holiday spirit. These crafts are so easy and festive, you'll want to make them for the whole family!
1. Mason Jar Candle – Once you have all the ingredients, your kids will be able to create the mason jar candle on their own with very little guidance. They will have fun measuring, cutting, and tying the ribbons. And the best part—this simple gift-worthy holiday craft can be re-purposed for teachers, grandparents, or friends for any occasion year-round! Thanks, www.craftsbyamanda.com for the example!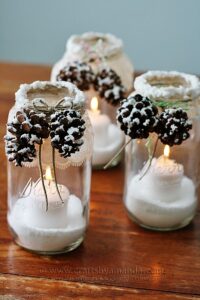 Items Needed:
• Mason jar
• Short candle
• Ribbon
• Fake snow: Search at your local craft store or use Epsom salt!
Steps:
1. Sprinkle "snow" in the bottom of the jar until about a quarter is filled.
2. Place candle on top of "snow."
3. Measure ribbon to about 12 inches, cut, and tie in a bow on top of jar.
4. Personalize your candle by adding "Love, ____" anywhere on the jar. Add stickers, drawings, or other simple touches too!


2. Holiday Quote Picture Frame – Let their imaginations go wild with this craft! Helping your child pick out a quote to use in the frame is a terrific opportunity to discuss the reason for the season. They'll be proud to decorate the frame all on their own. The Holiday Quote Picture Frame makes a great festive décor piece that can be used year after year! Thanks, www.fun-a-day.com for the frame inspiration!
Items Needed:
• Simple picture frame (make sure it can be decorated)
• White cardstock paper
• Permanent markers
• Small holiday decorations: buttons, stickers, paint, bows, washi tape, stamps—the options are endless!
• Glue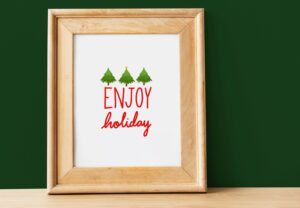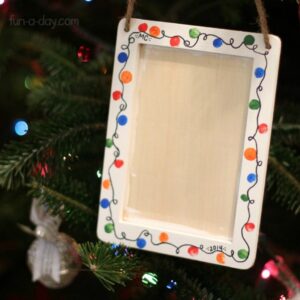 Steps:
1. Help your child find a festive quote to put on the cardstock.
2. Cut cardstock paper to the size of your frame.
3. Write (or print) and decorate the quote on the cardstock.
4. Decorate the picture frame. Add stickers, doodles, small bows or garland, and other holiday decorations!
5. Place the quote inside the frame. Now, you have a cheerful decoration to get everyone in the holiday spirit!


3. Personalized Mug with Hot Chocolate and Marshmallows – What's the holiday season without hot chocolate? Everyone loves a nice mug, and personalizing it makes the gift that much sweeter. You will need to help your kids with the oven with this craft, but it's a great supervised opportunity to discuss safety in the kitchen. Add a packet of your favorite hot chocolate and marshmallows and voila—a super sweet gift! Thanks, www.blog.lilyandval.com!
Items Needed:
• White mug
• Oil-based paint markers
• Hot chocolate packet
• Small bag of marshmallows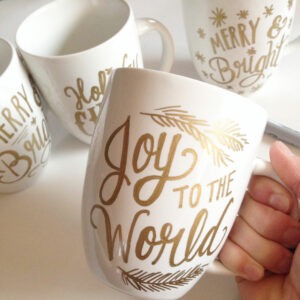 Steps:
1. Use paint markers to create any holiday design! Make sure to hold the mug by the handle, not where you will paint it. In case of a mistake, grab nail polish remover to wipe it away.
2. Let your mug dry for about a day.
3. When your mug is ready, preheat the oven to 425 degrees.
4. Place the mug in the oven to bake for 30 minutes. Once it is finished, leave the mug in the oven until it cools down to prevent cracks.
5. Place the hot chocolate packet and bag of marshmallows inside the mug. Add a bow to the handle to give it an extra Christmas touch!


4. Peppermint Bath Bomb– There's nothing like a gift that helps you relax! Mom, Grandma, or your child's teachers will especially enjoy this present. This recipe makes enough for the kids to try too, so you can all sit back and enjoy the festive smell of peppermint! Thanks for the tips, www.playdoughtoplato.com!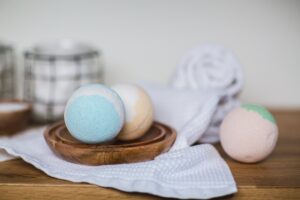 Items Needed:
• 1 cup baking soda
• ¾ cup corn starch
• ¼ cup Epsom salt
• ½ cup citric acid
• Food coloring
• Peppermint essential oil
• Large bowl
• Spray bottle with water
• Something to serve as a mold (muffin tin with saran wrap, silicone molds, ice tray, etc.)
Steps:
1. Mix baking soda, cornstarch, Epsom salt, and citric acid in a large bowl. Make sure to break up any chunks!
2. Add several drops of food coloring to the spray bottle. Lightly spray the mixture until it is colored and damp.
3. Add several drops of peppermint oil to the mixture and stir.
4. Place mixture into molds and let them dry overnight. Store them in a plastic container.


5. Holiday Scarf – This stylish craft doesn't get any easier! Kids will love picking out a unique fabric for each of their friends, siblings, or any scarf-lover on their shopping list. Thanks for the idea, www.NeighborhoodMoms.com!
Items Needed:
• 1 ½ yards of holiday fleece fabric (may depend on size of person)
• Scissors
Steps:
1. Lay fabric flat and cut to where it is about 8-10 inches wide.
2. Cut the ends of the fabric into strips roughly 3 inches long, 1 inch wide.
3. Finish off the fringe by tying each strip into a knot at the top.
Make one, make all, or save one for next year! Creating holiday craft gifts each year is a thoughtful tradition that helps children learn to be generous in a season that can tend to focus on receiving. Happy Holidays!